Piezoelectric Simulations Webinar
If you're in the business of designing transducers, resonators, actuators, or sensors, odds are you deal with piezoelectric materials — a key component in these devices. As we've said before, multiphysics simulation should play a central role in the product design-stages to ensure top quality without wasting time or money. For those of you who design piezoelectric devices, we have an upcoming piezoelectric simulations webinar on February 28th.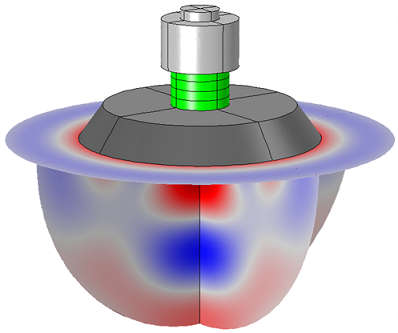 Sneak peek: Tonpilz transducer model to be featured in the upcoming Piezoelectric Simulations with COMSOL Multiphysics webinar.
Piezoelectric Effect has Many Uses
Piezoelectric materials convert electrical energy to mechanical energy. As we saw in "What is Piezoelectricity?", the piezoelectric effect occurs in many crystalline materials, and those that "display the phenomenon strongly enough" can be of practical use. With time, researchers have investigated this phenomenon in many applications, and we are discovering that there are a lot of different uses for piezoelectricity. The effect is also reversible (an applied mechanical strain results in an electric potential) and the differences between the two are explained really well in the aforementioned blog post, check it out to learn more.
The tonpilz (pictured above) is one of the most common transducers in sonar design. It's only fitting then, that our Piezoelectric Simulations webinar on February 28th will feature an example of how to model a tonpilz transducer in COMSOL (among other things).
The webinar will not only cover tonpilz transducers, however. To get a taste of some other piezoelectric simulations, here are some of the most popular piezo models from our Model Gallery:
Combining Piezoelectricity with Other Physics in One Simulation
Naturally, the quality of the overall device design depends on the understanding of how the piezoelectric, structural, and dielectric or conductive materials interact in the device. By use of multiphysics simulation, the design can be developed and tested to ensure device efficiency. This is true for transducers as well as other piezoelectric devices. Tune in to our webinar later this month for an intro to piezoelectricity and how to model piezoelectric devices in combination with acoustics, heat transfer, electromagnetic waves, or fluid dynamics in one simulation.
Further Reading
Editor's note: The webinar mentioned here is a past event. You can watch the archived version here.
---