Multiphysics Users Shine in COMSOL News 2013
Multiphysics simulation is all around us, although everyone may not realize it. Simulation may be the last thing people consider when cooking breakfast on the stove, driving with their sun-roof open, or crossing a bridge, but behind these routine activities lies a team of engineers and researchers working to make it all possible — perhaps a team you're part of. I hear bits and pieces of the cool things COMSOL users are doing with the software from my colleagues around the office year-round, but it isn't until the spring when I get to talk directly with our users and really learn more about your applications. Why then? Because that's when we prepare our annual multiphysics simulation magazine. Now I'm excited to announce that COMSOL News 2013 has been released, and it's ready for your viewing, right this moment.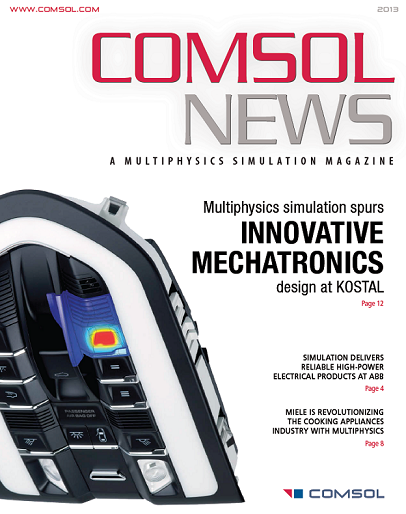 Over 15 User Stories Published in COMSOL News 2013
This year's COMSOL News has 48 pages of modeling and simulation highlights from over 15 of our users. We are giving you stories covering applications like electrostatics, sensors, antennas, batteries, and more. One team has worked to design the fastest vacuum reactance tap changer that is capable of economically and reliably performing one million operations over 30 years — impressive! Mechatronics designs have also been modeled using the multiphysics approach. Just read the article on page 12 to see how engineers have been designing capacitive sensors that will be used in your car's navigation system, or used to adjust your car's ambient lighting. Yet another engineering team shares their story on how they manufactured safe and efficient induction stove tops for consumers like you and me.
There are many other stories that I am sure you will enjoy. Whether you are interested in mechanical, electrical, fluid, or chemical application areas, COMSOL News 2013 has you covered.
Share Your Own Multiphysics Story
Do you have work you would like to share with the multiphysics community? We are always happy to hear what you are working on — your story could be featured in the next issue of COMSOL News.
You can also present your work at the upcoming COMSOL Conference this October in Boston, USA, Bangalore, India, or Rotterdam, Netherlands.
In the interim, check out what other members of the community have been doing. An online version of COMSOL News 2013 has been made available for easy and instant viewing, and I hope you enjoy this year's edition.
Happy reading everyone!
---