How to Prepare for the COMSOL Conference 2013
If you're the type of person who appreciates structure and ease-of-use, then as a COMSOL Conference 2013 registrant you will love the My Conference tool. This year we have revamped the system to let you quickly customize your conference program. Now you have the opportunity to add and edit your conference minicourse program whenever you prefer. We have also improved the functionality for presenters to edit and upload their abstracts and papers or posters, as well as get updates on the status of their presentation.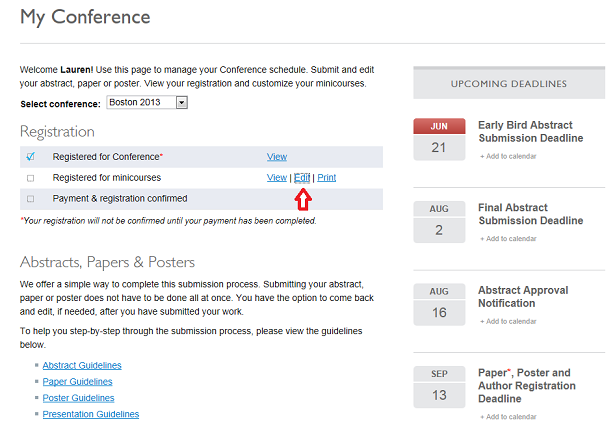 The "My Conference" Tool
In your My Conference domain you can now do the following:
Register for the COMSOL Conference 2013
Check the status of your registration
Select your minicourses — and change them as often as you'd like

Upload and edit your abstract and presentation files

Access all the templates and guidelines you need
Get updates on your presentation status
See important dates and upcoming deadlines
Customize your COMSOL Conference 2013 Minicourses
Everyone's favorite part of the COMSOL Conference are the minicourses, and with good reason. These sessions provide you with the fundamental tools needed to solve your multiphysics problem. We will have over 30 minicourses at this year's event, covering a wide range of applications: heat transfer, fluid flow, chemical reaction engineering, AC/DC, and much more. With the My Conference tool you can customize your minicourse schedule to fit your needs. If you are looking for courses in one area, such as Mechanical Engineering, you can follow a path of courses that fit your needs — everything is customizable. We understand that sometimes you simply change your mind, even when it comes to our event. Therefore, if you re-think the minicourses you just signed up for we're enabling you to log back in and change your minicourse schedule.

My Conference: Minicourse selection interface.
Since the minicourses are so popular, they naturally fill up quickly. We encourage all of you to register for your minicourses early to ensure you get the ones of your choosing. Don't fret — if there is a course you want to take but it is already full, we will still provide you with all the material that was presented at the minicourse.
Live Updates for Presenters
In the Live Updates for Presenters domain, presenters have templates and guidelines for their abstract, paper, and posters. In short, everything a presenter would need is available with the click of a mouse. There are also handy checklists that will show you when your abstract has been received and when it has been accepted. Live status updates allow you to view when and what session you have been assigned to present in.
We know that you are busy, so we have made the My Conference a portal of information and deadlines to help keep you on track so you don't miss any of the details. Simply put, this is your checklist domain for all things COMSOL Conference 2013.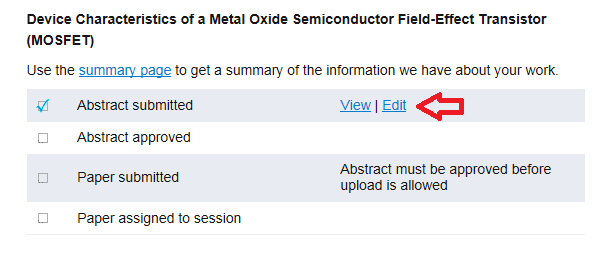 Updates for COMSOL Conference 2013 presenters.
Get Started
If you already have a COMSOL Access account you can also sign into My Conference without any additional actions. If you do not have an account, it is free and easy to sign up.
---
---
|
© 2017 by COMSOL Inc. All rights reserved