From Model to Product in One Step
I am an avid reader of The Economist and always enjoy their coverage of technical and scientific subjects. In their issue from late April, they ran a special insert on Manufacturing and Innovation, which was a great read. One of their articles was a report on 3D printing and how this is actually becoming an integral part of manufacturing in that the actual printing is mass producing parts and components.
When I first saw 3D printing at some technical fair I was at, quite a few years ago, I thought it looked neat and would help in the general R&D process. Rather than trying to look at a potential new design on a 2D computer screen, you could 'print it out' and hold and look at it as a 3D object. From there you could improve your design, impress your boss, and let the manufacturing department know what will be coming.
But The Economist's article indicates that the 3D printing is the manufacturing department. The unique design created in some software is now quite rapidly printed, as layers and layers of plastic or some other powdered material, in quantities of hundreds and even thousands. 28% of the turnover in this industry is used directly in a manufacturing process; a figure that is expected to rise to 80% by 2020.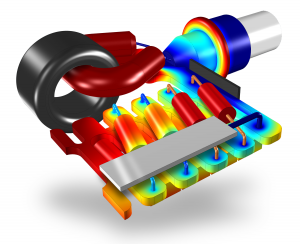 Could we mass produce these directly from a COMSOL Model?
Simulation of the electromagnetic field in a high-voltage generator
in an X-ray device. Model courtesy; Comet AG, Switzerland.
This, of course, got me thinking about the possibility of taking COMSOL models and producing 3D print 'images'. Well, the new version of COMSOL now supports STL File Export that is used for stereolithographic 3D printing. I hope I see my first 3D printed COMSOL model soon.
---