COMSOL and Fujitsu Bring You Ready-To-Go+
A little while ago we wrote about being Intel® Cluster Ready (ICR) certified and the advantages for companies in need of high performance computing (HPC). The conclusion of that blog post was that you can install and run COMSOL Multiphysics on any ICR cluster without additional preliminary work. There is a solution even simpler than that, thanks to a joint project between COMSOL Multiphysics GmbH and Fujitsu in Germany, called Ready-To-Go+ (RTG+). RTG+ is a complete solution, bringing you an all-inclusive service and a benchmarked cluster with a pre-installed software stack that includes COMSOL Multiphysics for simulation projects, all ready right out of the box. This is a pilot program that is only available in Germany, Austria, and Poland.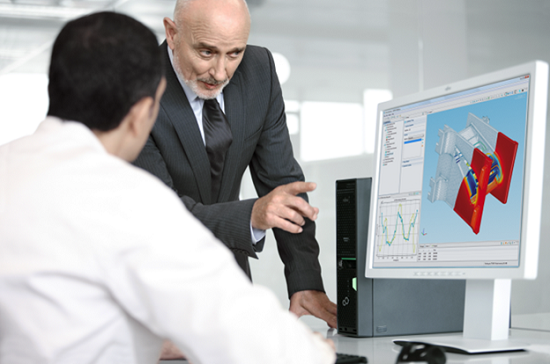 The Fujitsu RTG+ Workstation, a part of your high performance computing solution and designed to speed up your modeling work and further your simulations. Image courtesy ict AG.
About the Joint Project with Fujitsu
Our collaboration with Fujitsu was launched at this year's International Supercomputing Conference in Leipzig, Germany, and has so far proven successful. Many companies, big and small, have shown interest in RTG+, and for good reasons. This bundled solution removes a lot of the uncertainties associated with buying hardware and software separately. For example, when building a cluster from scratch, it is hard to know how much computation time will be saved, and if there will be any problems with the software that is to be used. In other words, we cannot be sure how effective our cluster will be. When buying an ICR certified cluster, we know that COMSOL will install and run on it without problems, but it won't tell you anything about how effectively COMSOL will compute on that cluster.
What Ready-To-Go+ Means for You
This is where the Ready-To-Go+ project comes into play. For each of the clusters that are offered, there is an application database giving information about the performance of COMSOL on that particular cluster setup. For instance, if you have a structural mechanics application, or if you are looking into other application areas — multiphysics or single physics — you will receive information about how effective such models compute on the cluster that you are interested in. As a further step, RTG+ even offers this for your individual project. Our goal is to make your leap into the world of HPC as successful and comfortable as possible.
Learn more about RTG+ here.
Intel is a registered trademark of Intel Corporation in the US and other countries.
---