COMSOL 4.3 Release Highlights Now Online
The release of COMSOL 4.3 is a big deal. My colleagues have been working very hard on this release, and lately water cooler conversations have been less about sporting events and more about what's coming in version 4.3, and when it will be ready. Many are saying that this is "our best release yet". Now it's finally time to unveil what the fuss around version 4.3 is all about — and we bring it to you first via the COMSOL Blog.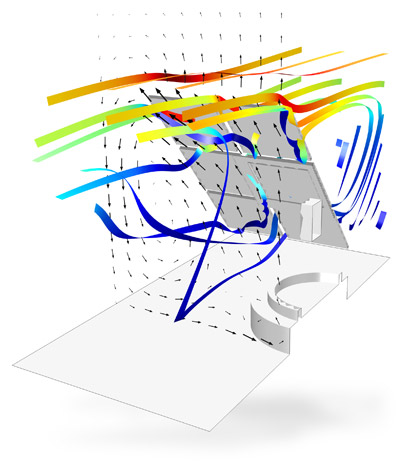 Today we published the COMSOL 4.3 Release Highlights on our website, and I encourage you to visit that page to delve deeper into what's new.
In short, the 10 major pieces of news in this upcoming version are broken into the following topic areas:
Nonlinear Structural Materials Module
Pipe Flow Module
Corrosion Module
Mesh selections
Faster meshing for CAD
New nonlinear solver
Rotating electrical machinery and automatic coil excitation
Turbulent mixing
Solar irradiation
Fast far-field plots
In our Friday poll on the COMSOL Multiphysics Facebook page we asked "Are you excited for the upcoming release of COMSOL version 4.3?".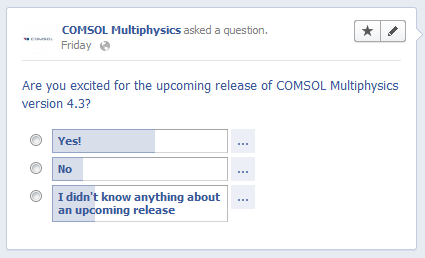 As you can see in the above screenshot, a majority of respondents claimed that they were indeed excited for the upcoming new release. With three brand new products and many new and improved features, is it really possible not to be excited for 4.3? We don't think so. After checking out the new COMSOL 4.3 Release Highlights page and finding out more about it, are you anxious to get your hands on this version of COMSOL?
---