Asia-Pacific Engineering Contest with a Cause Hosted by IEEE
Are you an engineer under the age of 35, located somewhere in the Asia-Pacific region? If the answer is yes, you are eligible to enter the All IEEE-R10 Young Engineers' Humanitarian Challenge 2013. The contest aims to engage young engineers to solve humanitarian problems using technology and entrepreneurial leadership. Many innovative project ideas have been submitted to this engineering contest in the past, and the winners have received funding to implement them. This year it could be your project that provides the solution to a humanitarian challenge.
From Concept to Entrepreneurial Venture
In 2009, a group of students conceptualized a biomedic means of eradicating mosquitoes using non-toxic technology. This aimed to prevent the transmission of mosquito-borne diseases — a serious health concern in several parts of Asia. This project went on to get shortlisted for funding as part of IEEE All India Young Engineers' Humanitarian Challenge 2010. The contest helped these young engineers translate their concept into a patented project, which finally went on to become an entrepreneurial venture.
Engineering Contest: Using Technology to Give Back to Society
Over the years, the engineering contest has seen submissions by several young engineering enthusiasts. A key focus in all these projects is using technology to give back to society. Participants are also encouraged to work closely with the actual beneficiaries during the course of the project. Past winning projects include hands-free wheelchairs, calculators for visually impaired, and robotics for disaster management.
This year, the contest has gotten bigger and better and is now open to all of Asia-Pacific. We at COMSOL are happy to be partnering with IEEE on this unique contest with a cause. Entries are now being accepted, and the last date to submit your proposal is May 20th, 2013. Note from the Editor: The deadline has been extended to May 31st.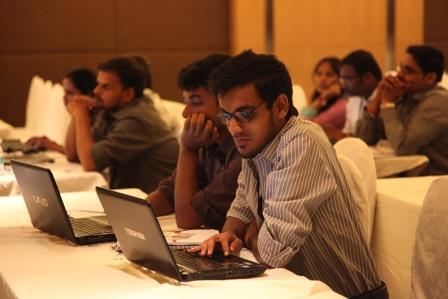 What do shortlisted candidates get?
Basically, shortlisted candidates will receive funds to implement their project. Teams that make the cut can also get mentored by experts from industry and academia, as well as receive access to webinars on different areas of project management. Winners will be selected by a panel of industry experts. Learn more about this engineering contest with a cause on the IEEE contest website.
---